Multi-functional Refrigerator Storage Box
Description
Don't miss the perfect refrigerator storage container, it's a must-have for your kitchen home.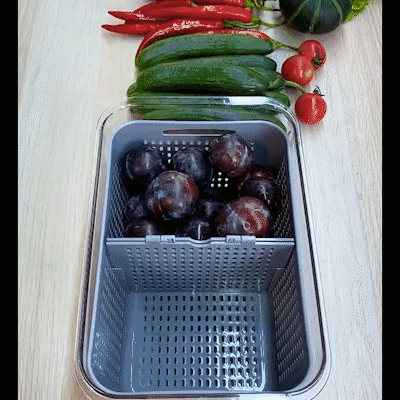 Multi-functional Refrigerator Storage Box Made of high-quality food-grade safety PET material that can effectively resist stains and odors, 100% BPA-free. Fit for refrigerator storage, also for a healthy picnic party.
KEEP VEGETABLE&FRUITS FRESH - The vegetable and fruit storage/saver container with lids have a vents system that can regulate the flow of air, in and out, control the humidity inside of vegetable storage,
 CLASSIFIED STORAGE DESIGN - These salad Tupperware-container come with adjustable foldable partitions for classified storage to prevent the food from squeezing, rotting, or sogginess.
MULTIFUNCTIONAL DESIGN - The bottom of the container has a small opening that can be opened to drain out the water and can also be used as a colander to wash produce or strain food such as potatoes.
Shipping
USA: FREE Shipping. Delivery within 10 days.
International: Insured Shipping. Delivery within 14 business days.